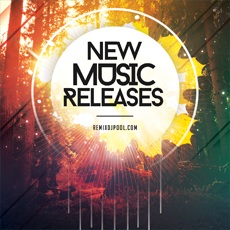 $uicideboy$ – Meet Mr. NICEGUY
Afrojack – Bringin It Back
Alec Benjamin – Death of a Hero
Alex Aiono – Big Mistake
Andres Cepeda, Sebastian Yatra – Magia [ FT. Sebastian Yatra]
Andrew Bayer, Alison May – Immortal Lover [Edit]
Andy Black, Dylan MClean, Scot Stewart – My Way
Anik Khan – Big Fax
Anki, Indigou – Above [Original Mix]
Apollo LTD – Gold
Arlie – barcelona boots
Arty – Couldn't Be Better [ARTY x Vion Konger Remix]
Atreyu, Alex Varkatzas, Dan Jacobs, Travis Miguel, Porter McKnight, Brandon Saller – Anger Le FT. Behind
Au5, Trove – The Journey
Aya Nakamura – Copines
Bad Bunny, Hector El Father – Vamos Pa' La Calle
Barns Courtney, Dan Grech-Marguerat, Joseph E-Shine, Rob Ketchum – 99
Bas, J. Cole – Tribe
Bassnectar, Vindata – The Mothership
Bebe Rexha – Don't Know
Black Coffee, David Guetta, Delilah Montagu – Drive [Edit]
Blackbear – the 1
Blood Orange, A$AP Rocky, Project Pat – Chewing Gum
Brandon Ray – Second Thoughts
Brett Dennen – Be Somebody
Bring Me the Horizon – MANTRA
Bro Safari, UFO! – Inaccessible
BTS – Answer Love Myself
BTS – Epiphany
BTS – FAKE LOVE [Rocking Vibe Mix]
BTS – I'm Fine
BTS, Nicki Minaj – IDOL
Cade Thompson, Neon Feather – Grateful [Neon Feather Remix]
Cautious Clay – Crowned
Charli XCX – Our Boyfriend
Charli XCX FT. Iggy Azalea – Same Old Love
Cloves, Starsmith, Ian Barter, Kaity Dunstan – Hit Me Hard
Coméntale [ FT. Akon]
Conor Matthews – Inside Out
Crying Over You ?
Da FT. Funk – Ghetto Funk [Radio Mix]
David Guetta & Black Coffee – Drive [ FT. Delilah Montagu]
Disclosure, Guy Lawrence – Love Can Be So Hard
Disclosure, Guy Lawrence, Gwen McCrae – Funky Sensation
Disclosure, Guy Lawrence, Reuben James – Where Angels Fear To Tread
E-40 – Ain't Talkin Bout Nothing FT. G Perico & Vince Staples
E-40 – One Night FT. Ty Dolla $ign & Konshens
E-40 – Who You Talking To FT. Kent Jones
E-40 – Winning
Ekali, Yuna – Leaving [ FT. Yuna]
Emma Louise – Falling Apart
Empress Of – When I'm With Him
Evaride – Warrior
Evokings – On The Floor
Fairlane, Nevve – Wildfire
Fall Out Boy – Lake Effect Kid
Farida – Foreplay
Florida Georgia Line, Joey Moi, Ilya Toshinskiy, Derek Wells, Jimmie Lee Sloas, Dave Cohen, Nir Zidkyahu, Brian Kelley, Tyler Hubbard – Sittin' Pretty
for King, Country – Amen
Galantis – Mama Look At Me Now [Galantis x Deniz Koyu VIP Remix]
GASHI, French Montana, DJ Snake – Creep On Me
Glassio – Young & Departed
Goody Grace, G-Eazy – Girls in the Suburbs Singing Smiths Songs [ FT. G-Eazy]
Grace Carter, Mike Kintish, Stephen Koz Kozmenuik, The 23rd, Larry Gold – Why Her Not Me
Haciéndolo [ FT. Nicky Jam]
Hippo Campus – Bambi
houses – Fast Talk
Hunter Hayes – One Shot
Interpol – If You Really Love Nothing
Isra, Deku – The One
Ivy Sole – Backwoods
Jack Back – Overtone
Jaguar Dreams – Just Life
Jain – Oh Man
Jason Derulo, David Guetta, Nicki Minaj, Willy William – Goodbye [ FT. Nicki Minaj & Willy William]
Jauz, 666 – Super Fly
Jay Hardway – Let Me Tell You Something
Jessie J – Love Will Save The World
Jessie Reyez, Kenny Babyface Edmonds, Khristopher Riddick-Tynes, Normani, Kehlani – Body Count [Remix]
Julien Baker, Phoebe Bridgers, Lucy Dacus – Me & My Dog
Justice – Love S.O.S. [WWW]
Kiiara – Gloe
Kim Petras – All the Time
Kodaline – Head Held High
Kream – Deep End [Eden Prince Remix]
KSHMR, Head Quattaz – Good Vibes Soldier [ FT. Head Quattaz]
Kyle, Wiz Khalifa – Moment [ FT. Wiz Khalifa]
Kyson – Every High
LANY, Mike Crossey, Jake Goss, Paul Klein, Taylor Johnson – I Don't Wanna Love You Anymore
Liam Payne – Depend On It
Liam Payne – Slow
Liam Payne & French Montana – First Time
Liam Payne, Jason Gill, Brandon Skeie – Home With You
Life of Dillon – MIA
Lil Durk, Future – Spin The Block
Logic – The Return
Lucie Silvas – Kite
Mac Demarco – Honey Moon
Markus Schulz, Sebu Simonian – Upon My Shoulders [Festival Mix]
Masego, Sir – Old Age
Matoma – Don't Say What You Want To [ FT. Yashua]
Matoma – Heartbeats [ FT. Nina Nesbitt]
Matoma – Lost At Sea
Matoma – One In A Million
Matoma – Sunday Morning [ FT. Josie Dunne]
Matoma, Ayme – Losing It Over You [ FT. Ayme]
MO, Diplo – Sun In Our Eyes [Don Diablo Remix]
Model Tenant – Real Like You
Motez, Benson – Roll Out [Benson Remix]
Nacho – Danza
NEIKED, lil INDO – Been A Long Time
Neil, Liam Finn – Anger Plays A Part
Nick Jonas, Robin Schulz, Dann Pursey, John Paricelli, Steve Mac, Dennis Bierbrodt, Guido Kramer, Skylar Grey, Chris Laws, zane carney, Juergen Dohr – Right Now
Nicky Romero, Stadiumx, Matluck – Rise [ FT. Matluck]
Noah Cyrus, Lil Xan – Live or Die
NOTD, Tove Styrke – Been There Done That
Ofenbach, Benjamin Ingrosso – Paradise [ FT. Benjamin Ingrosso]
Ozuna – Aura [ FT. Arthur Hanlon]
Ozuna – Ibiza [ FT. Romeo Santos]
Ozuna – La Modelo [ FT. Cardi B]
Ozuna – Me Dijeron
Ozuna – Pasado y Presente [ FT. Anuel AA]
Patrick Moreno, Sage – Show You Again
Poppy, Diplo – Time Is Up
Quiero Más [ FT. Wisin & Yandel]
Quintino – Heey Ya
R3HAB – Back to You
R3HAB – Eyes Closed
R3HAB – How You've Been
R3HAB – The Wave
R3HAB – We Do
R3hab, Sofia Carson – Rumors [with Sofia Carson]
Radiant Children – Tryin'
Reason – Better Dayz
Rickyxsan, Oski – Back
Robert DeLong – Revolutionary
Rosette – Single For The Summer [Original Mix]
ROZES – Canyons
ROZES – Famous
ROZES & Nicky Romero – Where Would We Be
Rubblebucket – Party Like Your Heart Hurts
Saweetie, London on Da Track, G-Eazy, Rich The Kid – Up Now [ FT. G-Eazy & Rich The Kid]
Sebastian Romero, Una Cancion Bonita – Bonita
Seth Ennis, Little Big Town – Call Your Mama
Seven Lions – Dreamin' [ FT. Fiora]
Seven Lions – Let Go [ FT. Fiora]
Seven Lions – Start Again [ FT. Fiora]
Seven Lions & Blastoyz – After Dark [ FT. Fiora]
Shae Jacobs – Fuck Me Up
Sígueme los Pasos [ FT. J Balvin & Natti Natasha]
Slippin´
Soccer Mommy – I'm on Fire
Spencer Brown – Windows 95 on Acid
Sports – Autopilot
Steve Aoki., Ina Wroldsen – Lie To Me [Blue Brains Steve Aoki Remix]
Sultan + Shepard – High On Emotion
Super8, Tab – Blockchain
Surfaces – Heaven Falls Fall on Me
T-Pain, Gucci Mane – Might Be [ FT. Gucci Mane]
The Afters – Well Done
The Blaze – Faces
The Chainsmokers, Emily Warren – Side Effects [The Magician Remix]
The Chainsmokers, Nghtmre, NGHTMRE – Save Yourself
The Frights – Over It
Tiesto – WOW
Tunde Olaniran – Mountain
Tungevaag, Raaban, Luana Kiara – Bad Boy [ FT. Luana Kiara]
Valentina – Break My Heart
Valley Hush – Letting a Flower Die
Vlad Holiday – Like in the Movies
Wildstylez – Heartbeat
Yeek – Solstice
Young the Giant – Superposition
YoungBoy Never Broke Again – Head On [ FT. Kevin Gates]
YoungBoy Never Broke Again – I Am Who They Say I Am [ FT. Kevin Gates & Quando Rondo]
YoungBoy Never Broke Again – TTG [ FT. Kevin Gates]
Youngboy Never Broke Again, Kevin Gates – 2 Hands [ FT. Kevin Gates]
Yumi Zouma – In Camera
Zomboy – Rebel Bass
This content is for Members only.