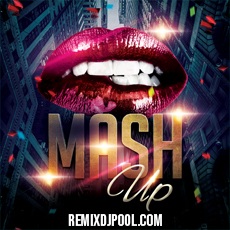 50 Cent x Dr.Dre – Still Big Rich Town D.R.E [Glenn-D Mashup] [Dirty] 11A 93
Chaka Demus & Pliers Vs. The Kemist & DJ BrainDeaD – Mayhem She Wrote [Mighty Mi Mashup] Clean 6A 98
Flo Rida & Sia Vs. Fisher – Wild Ones Losing It [Joe Reece Wordplay Segue] 5A 127
Gyptian x Shakka – Wine Slow x Man Down [Dirty] [DJ Piddy Mashup] 5A 138
J Hus x J Balvin & Willy William – Dem Boy Mi Gente Paigon [Glenn-D Mashup] [Dirty] 9A 105
Jhapz Sadicon x Avicii Vs. Michael Mind – Blue Levels 2K18 [DJ Nejtrino Vs. DJ Baur Mashup] [Clean] 12A 128
Jhapz Sadicon x Black Eyed Peas – My Humps 2K18 [Mashup DJ Sebastien & Alex Mutt] [Clean] 8A 128
JME x Fekky – Serious Avirex [Glenn-D Mashup] [Dirty] 5A 140
Krept & Konan x Snoop Dogg – Pour Me Another Signs [Glenn-D Mashup] [Dirty] 8A 113
Mariah Carey Vs. Fall Out Boy – All I Want For Christmas Is Uma Thurman [Pat C Mashup] [Intro Clean]
Mario Santiago x Estelle Vs. Daft Punk – American Boy Vs. Around The World [Mashup] [Dirty] 9A 122
Mario Santiago x House Of Pain Vs. Lil Jon – Jump Around Vs. All I Really Want For Christmas [Mashup] [Dirty] 4A 103
Offiaiah Vs. Jason Herd – Pull Push Dirty Coke Whore [Dirty] [J4CK W3ST Mashup] 4A 125
ReGroove x Calvin Harris Vs. DNCE – Feels Vs. Cake By The Ocean [Bren F Funky House Mashup] V2 [Dirty] 10A 125
Sheck Wes x Majestic – Mo Bamba Cyborg [3WY Mashup] [Dirty] 9A 134
Sizzahandz x C.C.R. Vs. Method Man – My Back Door Vs. Bring The Pain [Quick Hit Mashup] [Clean] 6A 104
Sizzahandz x Soave Vs. Prince – Crying Over Prince [Mashup] [Clean] 1B 118
Starjack x DJ's From Mars – Best Of 2K18 Rewind [Mixshow Mashup P. Starter] [Dirty] 1A 126
Wu Tang Clan x A Trible Called Quest – Protect Ya Kneck Scenario [Glenn-D Throwback Mashup] [Dirty] 8A 102
Zedd, Maren Morris & Grey – The Middle [Steve Lima Mashup] 4A 128
This content is for Members only.